Quite a few fans of Mats Zuccarello have emailed me over the past week wondering if Zukes still has what it takes to be an NHLer and most importantly a New York Ranger. Some have asked about his size, others about his speed and even one curious fan wondered if The Hobbit would be better off on a different team with a different system (i.e. trap, lock, etc). I figured I would turn these emails into a post since many Zuccarello fans follow his career from across the pond and are unable to watch the youngster on a nightly basis.
Zuccarello isn't in Hartford because he doesn't fit our system, or because of his size and/or skill. Zuccarello is in Hartford for two reasons…the first is because of the Rangers depth on RW, the second reason is because of his contract.
Wolski, Christensen, and Avery did not outplay Zuccarello in the weeks leading up to his demotion. However, if you are Glen Sather and you are keeping an eye on finances, are you going to demote Wolski, Christensen, or Avery and pay them $3.8M, $925K, or $1.9M to play in Hartford? Or is it easier to just send down Zuccarello, who is on a 2-way contract, and pay him a pedestrian $67,000?
Zuccarello is a right winger, currently 4

th

on the depth chart behind Gaborik, Callahan, and Prust. It doesn't make much sense to play Zuccarello on the 4

th

line. Fourth lines on Tortorella teams get virtually zero minutes. The fourth line is used so everyone else can get a breather. It's not a place for a young forward who you are trying to mold into a top 6 player.
Now I know what you are thinking; his contract and his spot on the depth chart aren't likely to change come next season, so what does this mean for his future with the Rangers and the NHL?
While it's too early to predict his path with the Blueshirts, I do think that he definitely has what it takes to succeed in the NHL. The media and the fans who buy their bullsh*t will tell you that he's too small, but that's a lazy analysis.
Zuccarello isn't too small for the Show, not for a forward anyway. There are currently around 15-20 players in the NHL that play at or below 5'8 and Zuccarello has better skills than most of them. He may not or ever be as quick as Gionta, Cammalleri, St. Louis, Briere, or Ennis, but he's not a step behind Gerbe, Connor, Shannon, or Recchi either.
Zukes doesn't need to hit the gym or find the Zoltar machine at Rye Playland.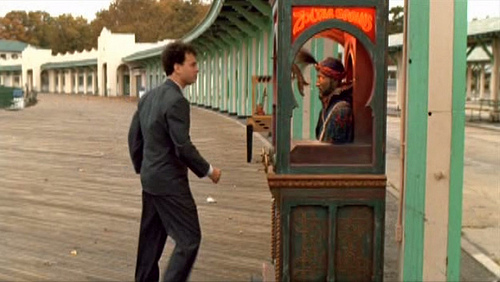 "I WISH I WERE BIG!"
No, but he may have to switch to the other side of the ice.
To me,
Zuccarello's struggles generally occur along the boards. This is mostly due to the fact that he is a left handed shot playing right wing. While playing the "off wing" is good for scoring goals (remember the whole Kovy fiasco in NJ this season), it does make board play more difficult.
Zukes is already at a disadvantage coming over from the larger rinks of the Swedish Elite League, where you have a week and a half to decide what to do with the puck. Here on North America rinks, no such luxury exists.
So, not only is Zukes getting used to the pacing and physicality of NHL forechecking, but he also has to get used to receiving pucks along the board on his backhand, which is obviously more difficult than receiving puck on your forehand. Add a 220-lb defensemen pressed up against you, and you're talking a whole new skill set to learn.
Passing and cycling along the boards is where he needs to improve. If he wants to speed up the learning process, I say he take a shot at leftwing. Besides, other than Dubinsky, none of our other LW's are locks for next season.